How to Stream on Kick: A Beginner's Guide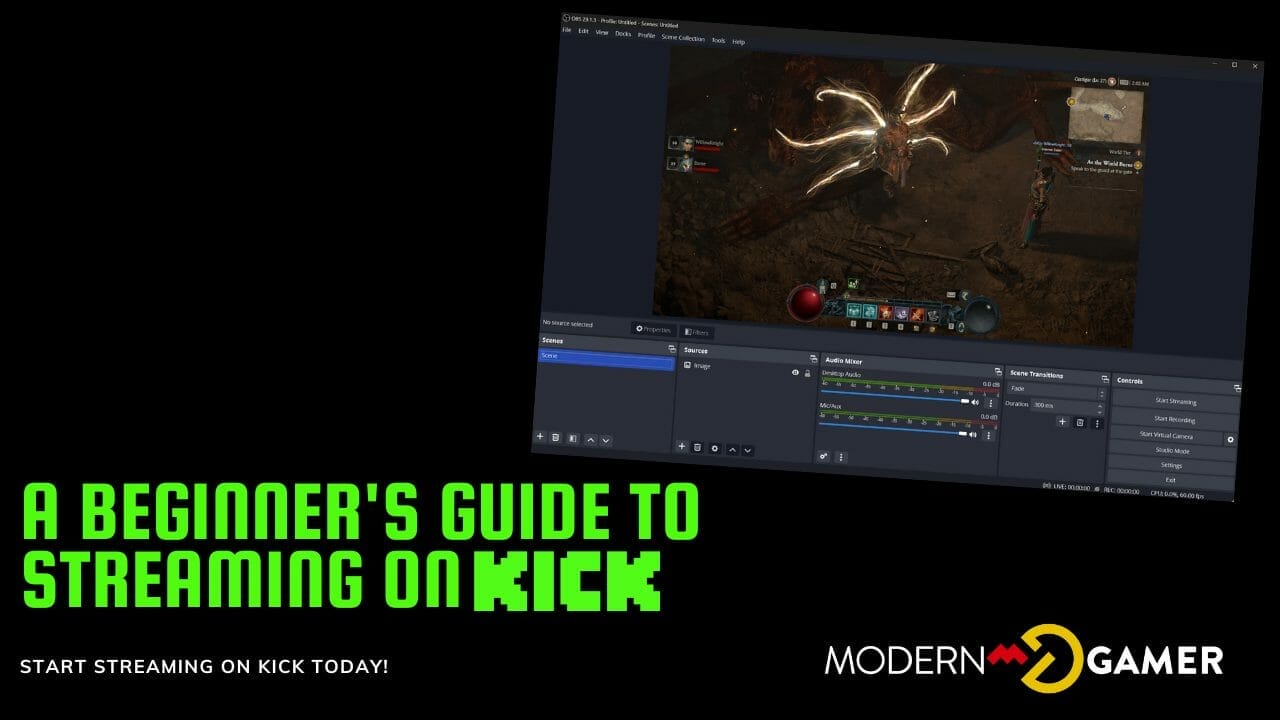 Introduction
Live streaming has become increasingly popular, providing content creators with a platform to engage and entertain their audiences in real time. One of the rising stars in this space is Kick, which offers an innovative range of features for both streamers and viewers alike – including a generous revenue-split model that allows creators to keep 95% of their subscription earnings.
In this blog post, we'll guide you through the ins and outs of how to stream on Kick, from setting up your account to maximizing audience engagement.
Key Takeaways
Kick is a live streaming platform that offers content creators a way to engage and entertain their audiences in real time, with a generous 95% revenue split model for users.
To start streaming on Kick, download the app, create an account on kick.com, and connect your chosen streaming software like OBS Studio.
Optimizing output settings for resolution, framerate and audio bitrate are crucial to achieving high-quality streams on Kick using OBS Studio. Additionally, adding chat integration can enhance audience engagement during broadcasts.
Finally, engaging with your viewers and monitoring feedback regularly is essential to improving your channel's performance over time.
Understanding Kick Streaming
Kick is a live streaming platform that enables users to broadcast their videos in real-time, using RTMP technology.
What Is Kick?
Kick is an innovative live-streaming platform designed to cater to the needs of content creators looking for a viable and creator-friendly alternative to other well-known platforms.
Known for its HD-quality video streams, Kick enables streamers from around the globe to create engaging and dynamic live content that captivates their audience.
As an added bonus for creators, Kick offers an exclusive program that allows them to generate steady income based on watch hours – promising a remarkable 95% revenue split with its users.
How Does Kick Streaming Work?
Kick Streaming is a powerful platform designed to revolutionize how content creators live stream by offering high-quality, real-time broadcasts tailored for viewer interaction.
To get started with Kick, you'll need a reliable streaming software like OBS Studio to connect with the platform. While setting up your broadcast, keep in mind the importance of multi-streaming – this feature offers flexibility for creators who want to reach audiences on multiple platforms simultaneously without being tied down by exclusivity deals often imposed by competitors like Twitch.
What Is RTMP?
Real-Time Messaging Protocol, or RTMP, is a streaming technology that enables the swift transfer of audio and video content over the internet. This protocol powers live broadcasting by allowing media to be sent in real-time between an encoding platform like OBS Studio and various video hosting platforms such as Kick, Twitch, YouTube Live, and Facebook Live.
The versatility of RTMP makes it compatible with numerous broadcast software options on the market today. For example, when using OBS Studio or Restream Studio as your encoding platform to create interactive online experiences for your viewers on Kick Streaming Platform, you essentially leverage this powerful protocol's capabilities.
Setting Up Your Kick Streaming Account
To set up your Kick streaming account, begin by visiting Kick.com and creating an account from a computer, or by downloading and installing the Kick Streaming app, creating a Kick account, and connecting your streaming software.
Downloading And Installing Kick Streaming App
To download the Kick Streaming App, follow these simple steps from your mobile device or tablet:
Visit the Google Play Store or App Store on your mobile device.
Search for "Kick – Live Streaming" in the search bar.
Download and install the app once you locate it.
Launch the app and log in to your Kick account.
Alternatively, you can visit kick.com from your desktop browser and click on "Sign Up" if you don't have an account already.
Creating A Kick Account
To start streaming on Kick, the user needs to create a Kick channel by creating an account on kick.com. Here are the steps to follow to create your Kick account:
Go to kick.com and click on "Sign Up."
Fill out the registration form with your personal details.
Choose a unique username for your Kick profile that represents you or your brand.
Create a strong password and confirm it.
Verify your account through the email address you provided during registration.
Once your account is verified, you can log in and customize your profile page, including adding a profile picture, cover photo, and description.
Congratulations! Your Kick profile is ready for broadcasting live streams.
Remember that a well-crafted Kick profile can help attract viewers and engage with them during broadcasts. Make sure you provide accurate information about yourself or your brand and choose an attractive profile picture that stands out in search results. With these tips, you are ready to begin your journey streaming on Kick!
Connecting Your Streaming Software
To start streaming on Kick, you'll need to connect your chosen streaming software to your Kick account. Here are the steps:
Choose a compatible streaming software such as OBS Studio or Restream Studio.
In your Kick account, click on Creator Dashboard and select "Stream Setup."
Find the "Encoder Setup" section and copy the Stream URL and Stream Key.
Open your chosen streaming software and navigate to its settings.
Paste the Kick Stream URL and key into the appropriate fields in your streaming software.
Set up any additional customized settings, such as output resolution or audio preferences.
Test your connection by going live for a few minutes to ensure there are no connectivity issues.
Once you've successfully connected your streaming software to Kick, you can start creating engaging content and interacting with your audience!
Streaming On Kick Using OBS Studio
Setting up OBS Studio is crucial for the optimum streaming experience on Kick.
Setting Up OBS Studio
To stream on Kick using OBS Studio, you will need to set up the software correctly. Here are the steps to follow:
Install OBS Studio on your computer and launch it.
Click on "File" in the top left corner of the window.
Click on "Settings" from the dropdown menu.
In the Settings window, select "Stream" from the left-hand menu.
Select "Custom" as your streaming service from the dropdown menu.
Go to your Kick account and find your Stream Key and Stream URL.
Copy and paste the Stream URL into the OBS Studio's Server section.
Copy and paste the Stream Key into OBS Studio's Stream Key section.
Once you have added your Stream Key and Stream URL, click "OK" to save your settings.
You can now start configuring your output settings, such as resolution and bitrate, for optimum streaming quality.
You can also set up any necessary scenes, sources, chatboxes, or other elements you want to include in your Kick stream using OBS Studio's intuitive interface.
If you're looking to spruce up your streams, we highly recommend you check out Own3d.tv. They have an entire marketplace of high-quality stream overlays that fit nearly every style you can think of. Plus, If you choose to buy a pack through our link, you're helping us out too. So, thanks!
By following these steps, you should be able to successfully live stream on Kick using OBS Studio without any issues! Always remember to use high-quality equipment and experiment with different techniques for an engaging and successful streaming experience.
If your stream is choppy or dropping frames, I recommend checking out our guide on how to stop dropping frames during live streams.
Output Settings For Optimum Streaming
Output settings are crucial for achieving the best streaming quality on Kick.com using OBS Studio. The following settings should be optimized:
Video Bitrate: This determines the video quality and should be set at a suitable rate for your internet speed.
Audio Bitrate: Set at an appropriate rate to ensure high-quality sound.
Encoder Settings: Use hardware encoding if available to reduce CPU usage and increase overall performance.

If you use a modern Nvidia GPU choose NVENC, H.264
If you use a modern AMD GPU choose AMD, H.264

Screen Resolution: Choose the resolution that will provide clear footage without compromising performance.

In general, it is recommended that your Output (Scaled) Resolution is set to 1080p or 720p unless you have the hardware and internet speeds to handle higher-quality video outputs.

Framerate: A higher framerate can lead to smoother video, but it may affect performance if set too high.

Start by testing with 60 FPS and lower it down to 30 FPS if you notice dropped frames or choppy streams.
By optimizing these output settings in OBS Studio, content creators can achieve high-quality live streams on Kick.com with minimal lag or buffering issues. Advanced mic settings such as filters, EQ, compression, and more can also be adjusted in OBS Studio to ensure professional-grade audio quality during streams. Finally, these OBS settings can be adjusted for low-end PCs or laptops to ensure fast and lag-free streaming on Kick.com.
Setting Your Title And Category
When streaming on Kick, like on any platform, it's crucial to set your title and category correctly to attract the right audience. Here's how you can do it:
Use a clear and concise title that accurately represents your stream's content.
Choose the appropriate category for your stream, which will be the game being played.
Utilize relevant keywords in your title and category to improve discoverability.
Utilize the Kick Creator Dashboard to set your stream's title and category.
Remember to update your title and category if you switch games or topics during your stream.
Use Restream or OBS Studio to ensure that your chosen title and category are displayed accurately across all platforms.
By following these simple steps, you'll attract the right viewership to your Kick streams while increasing their overall visibility. Don't forget to experiment with different titles and categories to see what works best for your content!
Going Live And Ending Your Stream
Going live and ending your stream on Kick is a straightforward process when using OBS Studio for streaming. Here are some tips to keep in mind:
To start streaming, make sure you have your stream URL and key ready, as well as your title and category.
Once you're ready, click the "Start Streaming" button in OBS Studio or other RTMP – compatible software.
Engage with your viewers and make sure everything looks good on your end.
When it's time to end the stream, click the "Stop Streaming" button in OBS Studio or your streaming software.
Kick will display an offline banner to let viewers know that the stream has ended.
Remember to monitor your performance and seek feedback from viewers to improve future streams. And don't forget to use high-quality equipment and experiment with different techniques, games, and categories!
Promoting And Improving Your Kick Stream
Once you've started streaming on Kick, it's important to promote and engage with your audience to improve your channel's success. Utilize social media platforms to expand your reach, create engaging content, create long and short-form videos on platforms like YouTube and TikTok to increase discoverability, and always be interacting with viewers during streams.
Collaborating with other streamers can also help grow your audience and improve the quality of your content.
Utilizing Social Media Platforms
Social media platforms are essential for promoting and improving your Kick stream. Here are some tips on how to use them effectively:
Share your broadcast schedule: Post your upcoming stream schedule on social media platforms such as Discord, Twitter, Facebook, and Instagram. This will help your followers know when to tune in.
Leverage hashtags: Use relevant hashtags such as #kickstreaming or #livestreaming to expand your reach beyond your followers.
Comment on other streams: Engage with other streamers by commenting on their streams. This will help you build relationships within the streaming community.

When doing this, it's important that you don't spam your stream in another creator's chat. Your goal is to build and cultivate a community and potential partnerships, not spam links, and become someone nobody wants in their chat.

Share highlights: Use social media like YouTube and TikTok to share highlights from your past streams to give potential new viewers an idea of what they can expect.
Collaborate with other content creators: Partner with other creators in the same niche as you to cross-promote each other's streams and boost exposure.
By using social media properly, you can attract more viewers, engage with them more effectively, and promote your Kick stream more extensively.
Creating Engaging Content
Creating engaging content is key to building a successful Kick stream that keeps viewers coming back for more. One way to do this is by planning out your topics in advance and brainstorming unique ideas that will set you apart from other streamers.
Another important aspect of creating engaging content is audience interaction. This involves responding to comments or questions in real time and making your viewers feel like they are a part of the conversation.
You can also incorporate interactive features like polls or games into your streams to keep things fresh and exciting for your audience.
Interacting With Your Audience
One of the most crucial aspects of a successful Kick stream is interacting with your audience. This can be done in various ways, such as responding to comments in the chat function or using interactive tools like Dixper's overlays and alerts.
Another way to engage with your viewers is by creating exciting content that encourages participation. For instance, Blerp offers a platform where viewers pay to share sounds on stream or use channel sound effects, which adds an element of fun and excitement to the viewing experience.
Additionally, collaborating with other streamers or inviting guests onto your stream can create a sense of community and inclusivity that attracts new followers and builds loyalty among existing ones.
Collaborating With Other Streamers
Collaborating with other streamers can be one of the best ways to grow your audience and improve your Kick streams. By partnering up with other content creators in similar niches, you can co-create interesting and engaging content that attracts more viewers to your channel.
One of the most effective ways to collaborate is by actively engaging in eachothers streams and buidling community together. Before you share things like your own stream link or that you are also a streamer, be courteous and reach out to the streamer in a private message and ask if they are okay with it.
Most streamers will appreciate it if you ask first, especially if you've been an engaged member of the community and aren't simply chatting so you can spam links to their community.
Once you have built relationships with other streamers, a simple way you can help each other out is by hosting each other's channels during a stream, which can introduce new viewers to both channels simultaneously.
Joint ventures also open up cross-promotion possibilities for streamers on Kick.
Networking and collaboration are critical components when trying to expand an audience as a content creator on Kick, don't just stream and leave if you can; stay and engage with the community whenever you can.
Tips And Tricks For A Successful Kick Stream
Engage with your viewers to keep them interested and coming back for more, use high-quality equipment to ensure clear and crisp visuals, practice and experiment with different techniques to find what works best for you, monitor your performance and make improvements where necessary, and respond positively to feedback and criticism to build a loyal audience.
Engage With Your Viewers
When live streaming on Kick, it's crucial to engage with your audience. By responding to comments, asking questions, and encouraging interaction, you can create a more dynamic and engaging experience for viewers.
Make sure to monitor the chat function throughout your broadcast and respond to comments in real time.
Another way to encourage engagement is by asking for feedback or opinions from your audience on specific topics or issues that relate to the stream's subject matter. For example, if you're streaming a gaming session, ask viewers which game they prefer or what tactics they use when playing similar games.
Use High-Quality Equipment
Using high-quality equipment is not a requirement but it can be a massive help in creating a successful Kick stream. Your audience wants to watch and listen to you in the best quality possible, so it's important to invest in audiovisual equipment that will deliver clear and crisp visuals and sound.
To ensure your audience doesn't experience buffering issues or lags during your stream, make sure your computer meets the minimum system requirements for streaming software such as OBS Studio or Streamlabs OBS.
Good equipment not only enhances the viewing experience but shows that you're serious about content creation.
Practice And Experiment With Different Techniques
One of the most essential elements of a successful kick stream is experimentation. Content creators need to be willing to try out new techniques and approaches to keep their audience engaged and interested.
It's easy to fall into a pattern of doing what works, but taking risks can lead to breakthrough moments that truly set your content apart. Consider different formats or topics for your streams, experiment with lighting or camera angles, or incorporate new interactive features like polls or giveaways.
As you experiment with different techniques, it's important not to get discouraged by the occasional misstep. Not every idea will work as intended, but failure can be an incredible teacher if approached in the right way.
Take note of what didn't work and reflect on why it fell short – was it too ambitious? Did it not resonate with your audience? Make sure that you also get feedback from your audience on the different things you try on stream to see what they enjoy. With this information in hand, you'll have a better understanding of where you should focus your creative energy moving forward.
Monitor Your Performance And Make Improvements
To have a successful kick stream, it is essential to monitor your performance and make improvements regularly. Keep track of how many viewers you attract, which topics they engage with most, and what content generates the most interaction in the chat.
At the same time, don't lose yourself in the analytics of your stream on a daily basis. Watch your metrics and adjust to trends over time, not every stream.
Analyzing this data can help you identify areas for improvement, such as optimizing your broadcast quality or changing the format of your streams.
For instance, reaching out to other streamers for collaborations can expose you to a broader audience while interacting with others' followers. Additionally, practice using high-quality equipment like microphones and cameras to provide optimal audiovisuals that appeal to viewers.
Responding positively to feedback through comments or DMs is also crucial in enhancing interactions with audiences who will feel appreciated when their input is valued.
Respond To Feedback And Criticism
As a content creator, receiving feedback and criticism is inevitable, especially when streaming on platforms like Kick. It's important to handle these comments with professionalism and use them as an opportunity for improvement.
Firstly, take the time to read through all comments and messages you receive from your audience and acknowledge their perspectives.
When responding to negative feedback or criticism, it's essential not to become defensive or dismissive of viewers' opinions. Instead, use this feedback as a chance to learn more about what your audience likes/dislikes and adjust accordingly.
Remember that success takes work on Kick – many creators struggle at first but continue persevering until they find their niche in the platform's saturated market.
Conclusion And Additional Tips.
To wrap this up, streaming on Kick can be a great way to connect with your audience and make money from your content. By following the steps outlined in this article, you'll be able to easily set up your Kick account and start live-streaming right away.
Remember to engage with your viewers, use high-quality equipment, and experiment with different techniques for optimal performance. And never forget to monitor feedback and make improvements based on what works best for your channel.
What is kick.com?
Kick.com is a new streaming platform that allows creators to go live and stream their content to an audience.
How do I go live on kick.com?
To go live on kick.com, you will need to have a stream key and use it with your preferred broadcasting software or platform.
What is a stream key?
A stream key is a unique code that allows you to connect your broadcasting software or platform to kick.com and start streaming.
Can I stream on kick.com if I already stream on other platforms like Twitch or YouTube?
Yes, you can stream on kick.com even if you stream on other platforms. Kick.com is a new streaming platform that complements existing platforms and allows you to reach a different audience.
Can I monetize my streams on kick.com?
Yes, kick.com allows creators to monetize their streams and earn revenue through various methods such as subscriptions, donations, and sponsorships.
How do I upload my content to kick.com?
Kick.com is primarily a live streaming platform, so you can't upload pre-recorded content. However, you can still showcase your recorded content during your live streams.
Can I stream on kick.com if I'm a beginner and don't know how to stream?
Yes, kick.com is a beginner-friendly platform. They provide resources and a comprehensive guide to help beginners get started on their streaming journey.
Is kick.com still in beta?
Yes, kick.com is currently in beta. They are continuously improving the platform based on user feedback and adding new features.
How do I access the creator dashboard on kick.com?
To access the creator dashboard on kick.com, log in to your account and click on your profile picture or username. From there, you can navigate to the creator dashboard.
Can I choose the category for my stream on kick.com?
Yes, kick.com allows you to choose from a variety of categories for your stream. This helps viewers discover your content based on their interests.