6 Best Cloud Gaming Services for Video Game Streaming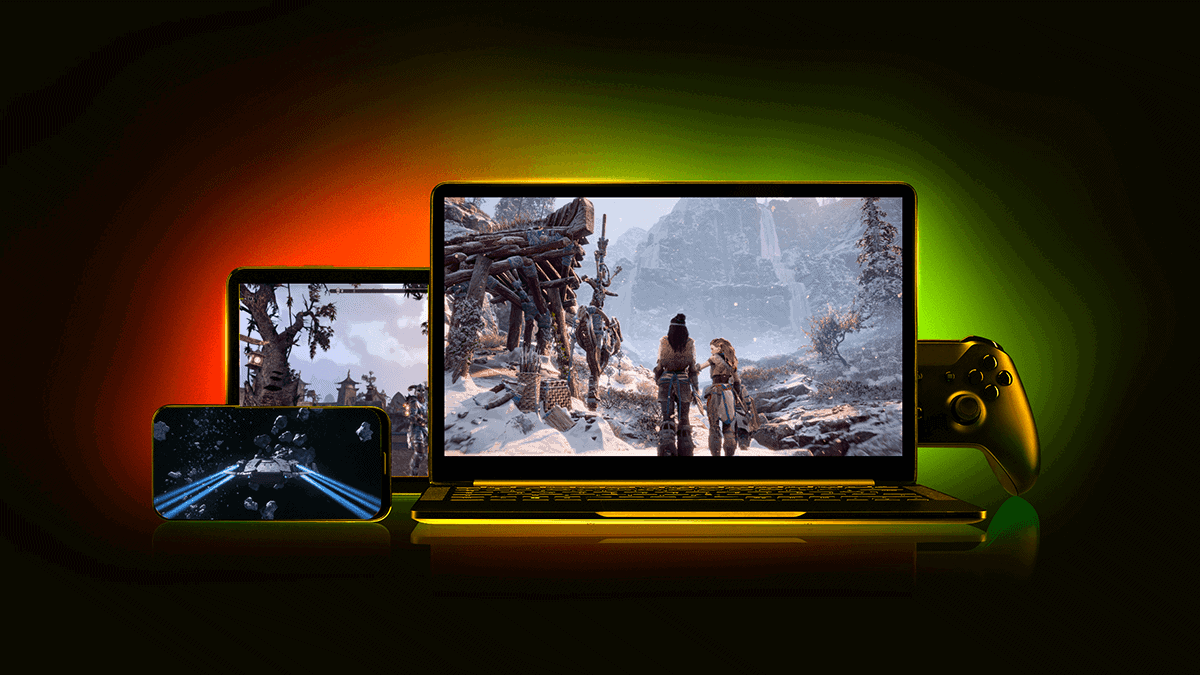 Cloud Gaming: Who Does It Best
There are many experts who think that streaming cloud gaming services are going to be a big deal moving forward. This is still somewhat novel to many gamers, but cloud gaming streaming services have actually been around in some form for quite a while. Things have come a long way since defunct services such as OnLive, though, so if you're curious about video game streaming services and which ones are worth your time, then you should keep reading.  
You'll be able to explore the various video game streaming services that are currently available below. Which cloud streaming service is going to provide you with the best value might be somewhat subjective, but you'll be able to make an informed decision after reading all of the information here. Whether you find cloud video game streaming to be convenient or if you just enjoy getting in on cutting-edge trends, it'll be easier to find your ideal streaming platform with more information. You have several choices to consider and there are streaming services available on multiple gaming platforms however the platform for you largely depends on your needs and in some cases depends on your existing game library. 
Before we dive into the 6 cloud gaming services that we recommend in 2020, if you're looking for the quick answer and do not have time to read through the entire article, I will give you my two recommendations based on two specific uses. If you have an extensive personal library on platforms like steam, origin, or other game platforms and simply want to be able to access your games from the cloud anywhere you go, then without a doubt the best option for you is Shadow by Blade.
If you do not already have a ton of games in your personal library and would rather be able to play from an existing game library then GeForce Now and Microsoft's Project xCloud are going to be the cloud gaming services you will want to explore. I encourage you to review each platform's game libraries prior to purchasing a subscription to see which fits your gaming style.
What is Cloud Gaming?
Prior to discussing which cloud gaming platform is going to give you the best bang for your buck, it's important that you are up to speed on the basics of what cloud gaming actually is. In essence, cloud gaming is, well, exactly what it sounds like: being able to remotely access and stream video games to an independent device using an Internet connection without the need to physically own the gaming machine, hardware, or physical game itself.
Streaming music from places like Spotify, Apple Music, or Amazon Music Unlimited use a similar concept. In those examples, you may not physically own the CD yet you are able to pay a monthly or annual fee to have access to a wide variety of music at the click of a button. If you would like a more in-depth and comprehensive overview of what cloud gaming is and how it works, let us know in the comments below and we would be happy to create another article explaining this in more detail.
Our Top 6 Picks for Cloud Gaming Services
With a basic overview of cloud gaming out of the way, let's jump into our top 6 picks for cloud gaming and how they compare.
Shadow 

b

y Blade

 
Shadow by Blade is an excellent video game streaming service that makes it possible to stream from a powerful Windows 10 gaming PC, Mac, or Android device. PC gamers have really taken to this cloud streaming service because it works very well in comparison to the competition. You have the advantage of being able to access a dedicated remote PC instead of having to rely on streaming your games from remote servers. The performance is superb overall, but the prices are a bit too high for many gamers.  
The basic plan is only $11.99 per month but the best plan with the most storage is going to run you $49.99 if you decide to pay monthly; you can bring that down to $39.99 per month if you pay for 12 months upfront. This is a great option if you want the best possible performance while cloud streaming video games on your PC. In terms of raw cloud gaming performance and accessibility, Shadow is currently the pinnacle of what cloud gaming has to offer, however, it is not without its drawbacks. 
Shadow's key difference to the other cloud gaming services within this guide is that with Shadow, you are not paying for a game library or game streaming service per se, you are in actuality renting a cloud gaming Windows 10 PC outfitted for gaming in which you can remotely access from several platforms that you are required to install and play your own games on, remotely. For the consumer with a massive steam library who wants the ability to access those games and play on the go, this is the ideal solution. However, in contrast for the gamer who primarily games on a console or who wants to pay for a cloud gaming service that provides them with a ready-to-play library of games, you may want to review some of the other options in this article.
If Shadow sounds like the cloud gaming service that you're looking for, you can find more information on their website shadow.tech and see if the platform is right for you.
Nvidia GeForce Now

 
Nvidia GeForce Now tends to be the most popular video game streaming option for regular Steam players. If you want to be able to access your Steam library for streaming on nearly any device, then this is a great service to sign up for. The performance is quite good and you can easily achieve 1080p with 60 FPS gameplay. It supports games from other platforms such as UPlay, Battle.net, GoG, and Epic Games Store.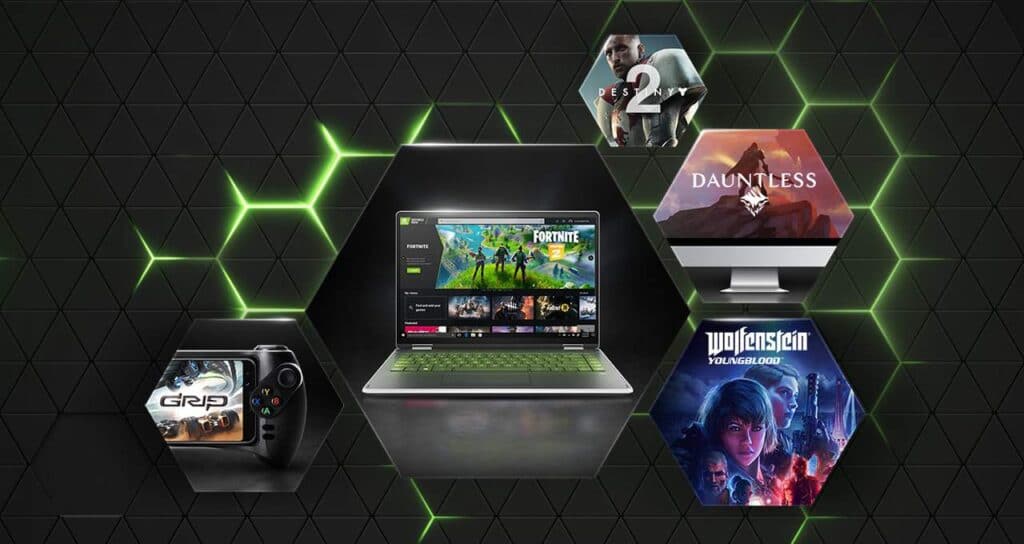 You'll also enjoy the fact that this service is more affordable than Shadow by Blade. At just $4.99 per month, this is going to allow you to enjoy top-tier cloud video game streaming at a palatable price. That said, if you don't have a fast internet connection, then it isn't going to perform up to standard. Also, signing up only gives you access to standard free-to-play games aside from the ones that you already own from the previously listed platforms.  
Antstream

 Arcade

 
This one is a bit of an oddity that is only going to appeal to a specific type of gamer, but it's certainly worth mentioning. Antstream Arcade allows gamers to cloud stream video games from the Commodore 64, Amiga, and ZX Spectrum. These are very retro games by today's standards and some of them don't hold up well under a modern lens. However, if you grew up playing classic titles on the Commodore 64 or Amiga, then you might find some nostalgia here.  
There are more than 1,000 games for you to play on Antstream Arcade and this could keep you busy for quite some time. As you might expect based on the retro platforms that it's streaming, this is a European-based streaming service. It'll cost you about $11 per month to stream these games and it has features such as online leaderboards and the ability to play on multiple platforms. The interface is a bit outdated and the games are only going to appeal to the people who looking to for a nostalgic experience and grew up playing them in the 80s and 90s, for the most part.  
Google Stadia

 
Google Stadia came in roaring like a lion in 2019, but most people feel that it just isn't up to par yet. Originally, Google Stadia was promising cloud video game streaming in true 4K resolutions with 60 FPS gameplay. Some people have been able to achieve good results when using Google Stadia, but the results have been mixed across the United States. If you have a very good internet connection (100Mbps or more at a minimum), then you'll probably be able to use Stadia with at least average results.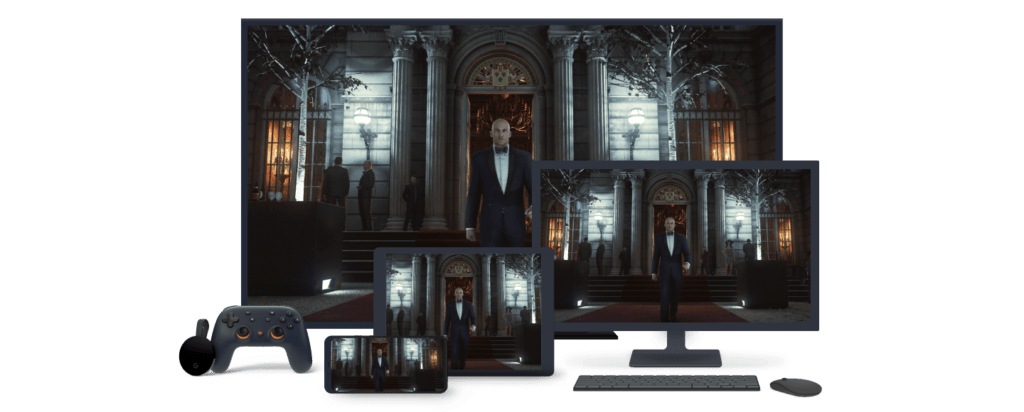 The launch library of games was okay and Google Stadia has shifted gears to make the pricing more accessible. Currently, it costs $9.99 a month and you can get a free month trial to see how it goes for you. Big games such as Cyberpunk 2077 are slated to come to Stadia in the coming months as well. Just know that input lag has been an issue for many gamers and that, at this point in time, it doesn't perform as well as advertised for most consumers.  
Playstation

 Now

 
Playstation Now is Sony's attempt at a video game streaming service and you can use it on your Playstation 4 consoles to access a large library of games. You can tell that Playstation Now has great potential and it's even more exciting because you can access a version of Playstation Now on PC. This lets you play some of your favorite PS3 games and PS4 games on your PC. 
The only issue with this service is that the performance is mixed on both consoles and PC. If you have a very good internet connection, then it's going to run significantly smoother. However, you might still encounter input lag. PS Now offers an incredible gaming library, but the price is somewhat high at $19.99 per month with the ability to bring the cost down a bit by purchasing one year of PS Now for $99.99.  
Overall, PS Now is going to be a very appealing option to gamers who like the Playstation exclusives that are being offered on this service. You can find lots of good games in various genres on PS Now and it has one of the strongest libraries of titles depending on your taste in games. However, the service doesn't perform excellently right now and it certainly isn't Sony's main focus. Also, more recent Sony first-party titles take a long time to get added to PS Now and you're mostly going to be able to play games that are several years old. Sony further explained in a recent meeting that they have no intention on adding new first-party titles to this service at launch.  
Microsoft Project 

xCloud

 
Finally, you have Microsoft's Project xCloud to consider when looking into the best cloud video game streaming options. This cloud service is still in its infancy, but many are excited about the potential for this cloud gaming platform. At the moment, it is still in its early stages where the bugs are being worked out and things are getting set up and it is currently only available on Android devices. The xCloud service is going to be similar to PS Now in some ways due to having a much better and more expansive library to choose from than the other platforms right away.  
Also, it has been noted that the Xbox Gamepass service is being combined with Project xCloud as Xbox Gamepass Ultimate. This is going to allow gamers to pay one low price to get immediate access to tons of Xbox games including brand new first-party Xbox games. The subscription is $14.99 per month, but it also goes on sale quite often. There is also a PC client through the Xbox app for Windows 10 that gamers can easily play tons of Xbox and PC titles from simply called the Xbox App in Windows 10. While this is primarily an Xbox Gamepass subscription feature, xCloud becoming a part of this bundle only further builds this service's value.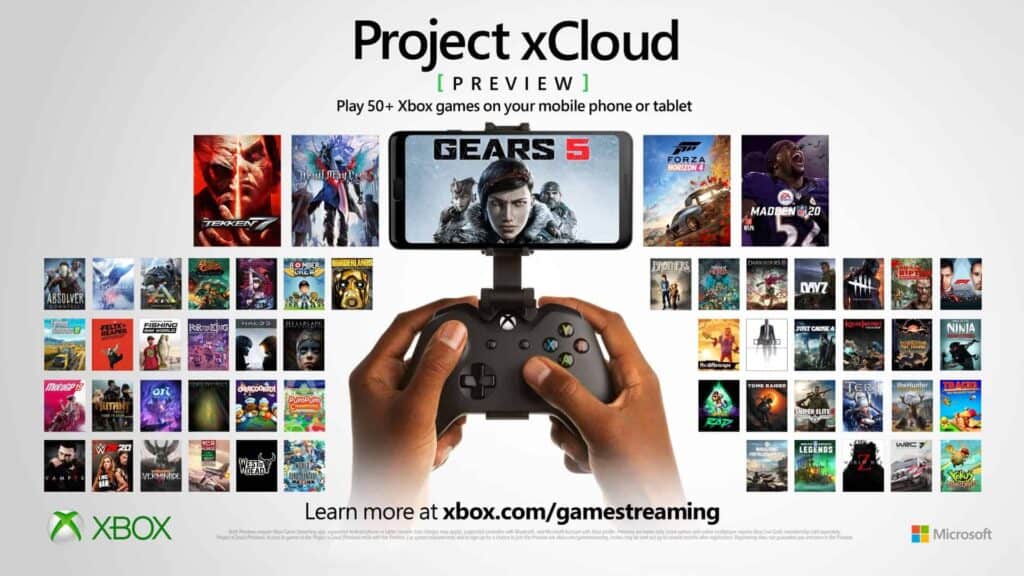 People in the industry are buzzing about Project xCloud because of the idea behind it and Microsoft's unique pro-consumer approach with Gamepass. It's partially about offering a good cloud video game streaming service, but it's also about changing the way that people consume games. The Xbox philosophy is to allow players to play games wherever they want to play them instead of focusing on console-exclusive content. They're offering many top-notch games on the Gamepass service and it's a real value when paired with the ability to stream games to other devices on the go.  
Microsoft also recently announced the purchase of Zenimax Online which now brings a host of new and exciting brands to the xCloud and Gamepass arsenal such as Bethesda's Elder Scrolls series, DOOM, the Fall Out franchise, and countless more incredible titles. Microsoft's Project xCloud game streaming service is quickly shaping up to become a titan in the cloud gaming space. 
Which 

I

s the Best?

 
Saying which of these platforms is the best is actually somewhat tough. Shadow by Blade certainly works the best on the PC right now, but it doesn't offer the same game library options that services such as GeForce Now, PS Now and Project xCloud can due to its heavy reliance on your own game libraries for new games. Project xCloud is also still in its early stages and the cloud gaming feature is only available on Android for now while the full Gamepass suite is available on both PC and Xbox for physical download. Your preferred video game streaming service is likely going to come down to what you enjoy about video games and what matters to you the most. Use the information above to formulate your own opinion and you'll be able to start streaming your games whenever you're ready.  
It's also worth noting that the information above is subject to change over time. These streaming services are constantly evolving and getting better. PS Now might not perform well currently, but it's very possible that it will receive a major upgrade to compete with Project xCloud. Google Stadia might wind up becoming substantially better in the coming months as well, but it's something that you're just going to have to wait to see for yourself.