Elgato USB-C Stream Deck + Review: Versatile Content Creator Controller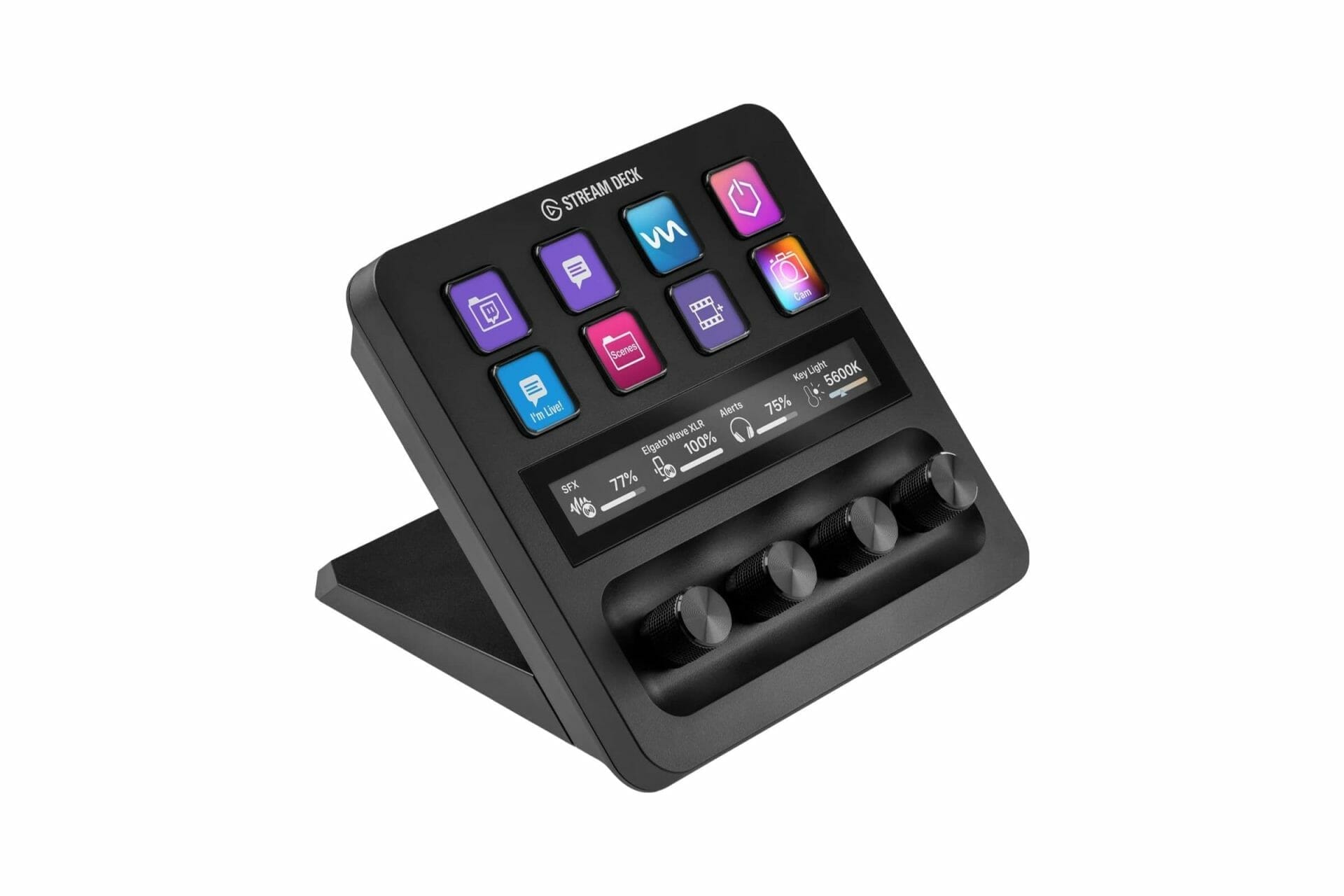 We've had our play with Elgato's USB-C Stream Deck +, and boy, are we excited to share our findings!
As content creators ourselves, we've seen how this versatile tool can revolutionize our workflow. Whether it's audio mixing or controlling studio gear, this device impresses.
But it's not without its quirks.
So, let's dive into an in-depth review and see if this might be your next game-changer in content creation.
Key Takeaways
Elgato USB-C Stream Deck + is a versatile controller for content creators, streamers, and gamers.
It offers tactile control and visual feedback with LCD keys, touch strip, and dials.
The device is fully customizable and can be used as an audio mixer, studio controller, or production console.
Powerful plugins are available, including Elgato Wave Link, Camera Hub, Control Center, OBS, Twitch, YouTube, Twitter, Discord, Spotify, Philips Hue, and more.
Exploring the Features of Elgato USB-C Stream Deck
We're delving into the diverse features of the Elgato USB-C Stream Deck +, a controller that's jam-packed with options for customization and control, making it a fantastic tool for content creators, gamers, and streamers.
This device offers tactile control with LCD keys, a touch strip, and dials, providing a versatile interface that's fully customizable. We can set it up as an audio mixer, studio controller, or production console.
It's impressive how it supports multi-actions and smart profiles, allowing us to trigger multiple actions sequentially. The plugins are robust, including Elgato Wave Link, Camera Hub, and OBS.
Delving Into the Audio Mixing and Control Capabilities
Let's dive into the audio mixing and control capabilities of this device, a crucial feature for any serious content creator. The Elgato USB-C Stream Deck + offers unparalleled control with its tactile dials and knobs. Here's what stands out:
Integration with Wave Link: This allows us to adjust audio levels without using the Windows volume mixer. It's a streamlined solution that's far superior.
Discord Plugin: It enables us to fine-tune individual user volumes, ensuring the perfect balance in our audio streams.
Gain Control: We can control the gain on the stream deck when used with Wave Link, a feature not found in many other controllers.
Versatile Knobs: Besides audio control, the knobs can be customized for different functions, making it truly versatile.
In essence, the audio control capabilities are robust and user-friendly.
The Power of Hotkeys and Shortcuts With Elgato USB-C Stream Deck
On another note, we've found the power of hotkeys and shortcuts to be a game-changer in our workflow. Elgato USB-C Stream Deck's customizability allows us to assign specific functions to each dial and key, making our work more efficient. Whether it's launching apps, controlling audio levels, or triggering sound effects, it's all at our fingertips.
| Stream Deck Function | Our Use Case | Emotional Impact |
| --- | --- | --- |
| Hotkeys | Launching apps | Empowerment, Efficiency |
| Volume control | Audio mixing | Confidence, Control |
| Soundboard | Voice chat entertainment | Joy, Surprise |
Through this table, you can see the emotional impact these features have had on us. Functions we once found complex are now straightforward, leaving us feeling empowered and in control. It's not just a platform, it's a game-changer.
Evaluating the Build Quality and Design of the Controller
Shifting our focus to the physical aspects, we've noticed that the controller's build quality and design are quite impressive, despite a few minor hiccups.
The controller feels robust and well-made despite being constructed mostly of plastic. The overall aesthetic is sleek, and the buttons provide a satisfying tactile feedback when pressed.
The base, while sturdy, could benefit from increased friction. We've noticed it occasionally sliding on smoother surfaces.
The touch panel, while mostly reliable, sometimes emits a plastic creaking sound, which, while not impacting functionality, could be distracting for some users.
The LCD keys provide bright, clear visual feedback, enhancing the overall user experience.
Analyzing User Reviews and Experiences
We've poured over numerous user testimonials and experiences to get a better understanding of how this device performs in real-world scenarios. We've found that users are impressed with its versatility, appreciating the multiple functions that go beyond the streaming niche.
The ability to listen to copyrighted music without audience feedback is a big hit, and the programmable knobs that also act as buttons are a favorite feature. There's been some mention of audio input issues, requiring a computer reboot to resolve. While the device is primarily plastic, users affirm its high-quality feel.
It isn't just for streamers; users have found various uses for the Elgato USB-C Stream Deck +, making it a well-regarded addition to any content creator's toolkit.
Conclusion
In conclusion, the Elgato USB-C Stream Deck + is a game-changer for content creators like us.
Its diverse range of customizable features, seamless integration with popular platforms, and superior control capabilities sets it apart.
However, it does have its drawbacks. Yet, considering its overall performance and the efficiency it brings to our workflow, we believe it's a worthy investment.
If you're serious about content creation, the Stream Deck + is a tool worth considering.